Reflection and Gratitude
How much time do you spend intentionally reflecting and being grateful?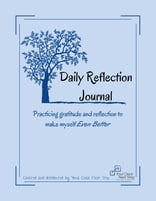 Studies indicate that having an "attitude of gratitude" can have a positive impact on our success, our interactions with those around us, our health and wellness, even our longevity! So why don't we practice thankfulness more?
Well, frankly, sometimes it's hard to find practical applications to put into practice. The theory is sound, but what do we really do?
One thing you can do is to keep a Daily Reflection Journal. Our Daily Reflection Journal gives you prompts reflect on each day. Some stay the same, while others change. You'll also receive a tip for every day.
You can start using the Daily Reflection Journal any day of the week or month and can download it as many times as you'd like.