Project Management includes a set of processes, often informally referred to as phases, as well as a set of knowledge areas.
The process groups of project management include Initiating, Planning, Executing, Monitoring & Controlling, and Closing.
While there are tons of different types of projects we might encounter, the process will always stay the same. Whether we are taking on an enterprise-wide IT transformation, or simply planning a summer vacation, we will always encounter the same 5 steps. Consider this example:
1. First, we Initiate.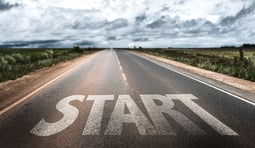 I realize that I want to make a special recipe for dinner tonight, and I begin thinking about the ingredients I might need. I decide I'm going to add a project to my day – going to the grocery store. Now, if I live by myself, I don't need to consult anyone else on this; but if I live with others, I may want to socialize my project to see if others could benefit from it as well.
If I'm really lucky, some member of my household has already anticipated that I'll want to make this recipe since we'd talked about it over the weekend, and they've already tucked the special ingredients away in the pantry – if that's the case, when we talk about the solution already in place, I can close down my project with no further effort! project to my day
However, it's more likely that the other members of my household identify other things that they would want me to pick up while I'm at the store. Because we talked about it during this Initiation process, I can potentially combine trips and eliminate wasted time and avoid the use of excess fossil fuels.
Initiating is when we begin to give our Project idea shape, and we socialize it to make sure it's in the best interest of the organization.
2. Then, we Plan.
Project Planning in this example is the act of putting together my grocery list, planning my budget, anticipating the when and how long of the project, and considering any of the risks that may impact me.
I might make my list, perhaps even in the order of the aisles in the store.

I might glance through my coupons to see if I can save any money on the items I will be buying.

I might plan my timing – when will I go, and how long do I have to shop before I need to be on to the next thing?

I might plan for my budget – how much can I spend on this particular shopping trip? – and make sure I have the cash with me or the appropriate credit card and rewards card handy.

In anticipating and mitigating risk, I might toss my reusable grocery bags in the front seat of my car so I don't forget them; I might run through the recipe one more time to make sure I've got everything I need, etc.
Planning is the often herculean and generally messy business of anticipating our needs, organizing our schedule, budget, resources, and making a plan to complete the project. While it's messy and hard to pin down during the actual planning process, it's absolutely essential to effective Project Management.
3. While the team is Executing...
Continuing with our example, Executing is the act of driving to the store, bringing in my reusable grocery bags, walking through the aisles, putting the items into my cart, making my way to checkout, buying my items, and heading back home again.
Project execution is the act of doing the work we planned to do. All of that effort we did in Planning pays off when, in Execution, we simply do what we said we would do

4. …The Project Manager Monitors and Controls. Monitoring and Controlling in our example, is checking the items off the list once they're in the cart, keeping tabs on my coupons, my budget, and my timeline, as well as watching my speed while I'm on the road.
Monitoring and Controlling is the process by which we make sure we stay consistent with our plan, and that any variances from that plan are considered, and appropriate adjustments are made.
While it is possible for an individual to both Execute and Monitor and Control, our ability to do either well is compromised when we try to do both simultaneously. We can all think of times we've gone to the grocery store alone and successfully returned home with everything on the list. But for complex or long lists, or for challenging work, our ability to produce the quality results when we're multitasking will be less than if we were focusing on one or the other.
However, this doesn't mean just throwing any available person into the mix is the right answer. In order to execute or monitor and control, they need to have the skills and ability to do so. With our grocery store analogy, a preschooler who can neither read nor reach the items on the higher shelves might not be particularly helpful at either executing or monitoring and controlling.
5. Before we're done, we Close. Closing is a portion of the project that generally only accounts for less than 5% of the overall project effort, but it's an important piece. Closing is when we put the groceries and reusable grocery bags away, communicate that we've bought what we said we would buy and finish up any remaining work or communication related to the project.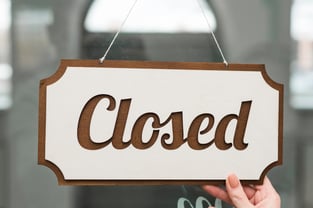 Closing is the process in a project through which we close down contracts, review lessons learned, celebrate with the team, and make sure any residual operational tasks are accounted for.
Throughout all of those processes, Project Managers are managing a set of 10 Knowledge Areas:
Stakeholders – who are all the people who care about this project, and how do we keep them appropriately informed and engaged throughout the project lifecycle?

Scope – what is the body of work that we are accomplishing, and how do we break it down into assignable, complete-able activities?

Time/Schedule – what is the duration of this project, and how does work need to be sequenced, and when will we be done?

Cost – what is the anticipated cost for this project, and how will we manage the associated budget?

Communication – how will information flow into, throughout, and out of this project team?

Integration – how will we manage change and ensure that we are focused on the right things at the right times?

[Human and other] Resources – how will we acquire, inspire, and direct the team members doing the work, and how will we manage the other resources that are being leveraged for this project?

Quality – how good is good enough, and how will we keep our quality on track?

Risk – what could prevent us from being successful, and how will we manage that?

Procurement – what will we need to purchase for this project and how will we handle the purchasing processes?